Okay, Nordstrom's. You had
better
still be bringing the creepy out of backstock, and things best be at the proper level of seasonal depression by the 25th of next month, because what I found downtown this afternoon was
simply unacceptable
.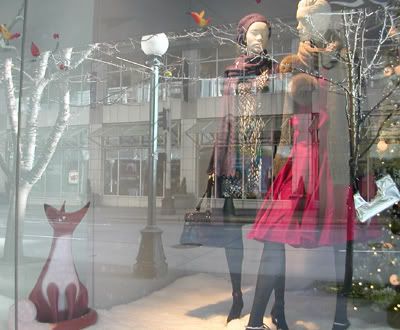 Seriously, every window is like this: it's as if they traded out anorexic hostility for whimsical curly-tailed foxes. And, while it's true that there were still dressers working in the main window (the one which featured the
robo-dachshund
last year), it looks like "mouthless fox staring soullessly at humans" seems to be the all-around theme this year. Macy's seemed a bit more promising, but I was chased away by particularly aggressive Salvation Army volunteers, so I guess I'll have to check back.
At least it was a nice day out. Yea, a bit too nice for photos without 10000% glare...
In news: you just have to respect any news organization that uses
the word 'poo'
in a headline. Also,
robot roaches.